Centuries ago, pineapples and flamingos decided that they were not getting the recognition they deserved and they banded together to slowly install themselves in modern culture. Alright, I admit, that does sound crazy, but kind of fun to think about. If Pineapples were sentient and Flamingos actually cared about that kind of thing, their seemingly takeover of modern arts and cultural would make a lot more sense.
Flamingos in Pop Culture can trace their origin to plastics, and the pink lawn flamingo specifically. Pineapples have an even longer and varied history in pop culture than Flamingos, starting with their "official" discovery by Christopher Columbus in 1493. Reading about the Social History of the Pineapple is actually quiet fascinating.
The hashtag #tropicalIlluminati started out as an inside joke with friends, that I loved so much I painted my newest watercolour with a flamingo and pineapple theme. For the most part, it's still an inside joke, but I've had many people ask me why I enjoy it so much.
A few months ago, a friend of mine, Julia from Vancouver Crafty Geeks, decided that she wanted to decorate her deck with flamingos and pineapples and put out a social media call for anyone who had or knew where to get Flamingo Lawn Ornaments. If memory serves, I believe that this desire stemmed from the previous summer when we saw a bunch of Flamingo floaties during a day-trip to the beach.
I actually had a few flamingo lawn ornaments I got from a yard sale, leftovers as Halloween Costume, "Alice in Zombieland", I only needed one, but I bought three, you never know when you are going to need extra flamingo lawn ornaments. I was going as a zombie hunter Alice from Wonderland and Michael was going as a zombified Mad Hatter. If you don't remember the context of the Flamingos in Alice in Wonderland, they were used as croquet mallet by the Queen of Hearts.
A few weeks after the flamingo lawn ornament call to arms, during a shopping trip to the states, Julia found some flamingo and pineapple string lights that would work great on her deck. They were pretty awesome, I almost wanted to purchase them for myself.
Following a flurry of picture message exchanges with Julia about all the crazy pineapple and flamingo stuff you can buy for bathrooms I started to see Flamingos and Pineapples EVERYWHERE. A lot of the times, it would just be a flamingo on a cup or a pineapple on a shirt, but occasionally they would appear together. I also started to spot it on TV, once Don Cherry was wearing a flamingo suit and on How I Met Your Mother, Ted Mosby woke up next to a pineapple.
As a joke, I mentioned on Facebook that noticing flamingos and pineapples everywhere was all Julia's fault, sometimes the best random conversations happen because of peoples comments on Facebook statuses.
During that Facebook convo, two tags emerged from another friend who had noticed the same phenomenon, #FlamingoPineappleConspiracy and #TropicalIlluminati. Since #tropicallIlluminati just had a better ring to it, I found it hilariously awesome and this is how the #TropicalIlluminati was finally uncovered from centuries of hiding.
The #TropicalIlluminati discovery was a classic case of the Baader-Meinhof phenomenon, alternatively known as the Frequency Illusion or Confirmation Basis. This is something that everyone has experienced at some point or another. For example, have you ever purchase a car and then started to notice that same car was everywhere? Or when reading a book, and you discover a word you never knew before, then that word starts to appear everywhere?
While I am totally away that the Baader-Meinhof phenomenon is the reason for the existence of the #TropicalIlluminati, I've still been enjoying the outcome, and it even has a longer history in my life than most of my friends are even aware.
It all started around my birthday. I can't remember the exact birthday it was, late teens early twenties, but in any case, one year for my birthday, my good friend Katie, gave me what is to this date, the best birthday card ever. A Pineapple. I don't mean a card with a picture of a pineapple on it, I mean a physical pineapple, the kind you'd eat. I don't even like to eat pineapples, and at the time I didn't even like to drink their blood, but this was by far the most memorable birthday card ever. A fresh pineapple with the words Happy Birthday written on the tag that was attached by a little elastic to the leaves. How many birthday cards do you remember, I bet not a one. I have a feeling this card will be one that I remember always.
From this point on, despite my not enjoying the eating of pineapples, I've always held a fondness for them. So when Katie announced that she was getting married, the crafty person that I am, I decided to make her a shawl as her wedding present.
I HATED the first shawl I attempted to make. It was a simple shell stitch, but by the time I was almost finished it, I couldn't stand it. There was no way I was giving this hated shawl to Katie, and despite the fact the wedding was almost happening, I stopped making it.
Remembering that pineapple "birthday card" Katie gave me many years ago, I wondered if I could make a shawl with some sort of pineapple theme. To Ravelry I went that there is a ton of pineapple themed crochet stuff and I found an awesome pattern called I Promise You Pineapples . At this point, the wedding had come and gone and the shawl was very overdue as a wedding present. I promise you pineapples appeared to be a pretty simple crochet and I decided to attempt it.
A year after the wedding, I finally presented Katie with a completed Pineapple Shawl. I Promise You Pineapples was a fun pattern to make and crocheted up really quickly. I might even make another one for myself one day.
Flash back forward to 2017 and the discovery of the Tropical Illuminati. I was in a whee bit of a creative slump, having just finished my latest painting, the Alice in Wonderland Star Wars Mashup (which coincidentally also features a flamingo), and I didn't have any idea what I wanted to create next, my art supplies were sitting there, unused.
Along came the Tropical Illuminati and inspiration struck! I knew that I had to paint Flamingos and Pineapples and give homage to the #TropicalIlluminati.
I had a lot of fun creating this painting. This was the second time I've attempted painting water, the first time was in "C" Vancouver. Every painting is a learning experience, while I don't think I have water "right" yet, I do think that the water in #TropicalIlluminati is a lot better than my last attempt.
If I was to redo this painting, I'd leave off the #tropicalIlluminati part on the painting itself, and add it in later on the computer. Aside from that, I love this painting and the joy it has brought to me, my friends and hopefully the world, if #tropicalIlluminati goes viral...you never know.
Recent Tropical Illuminati Sightings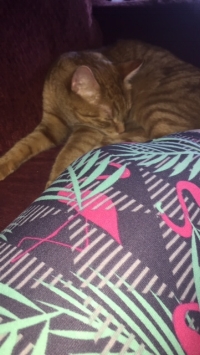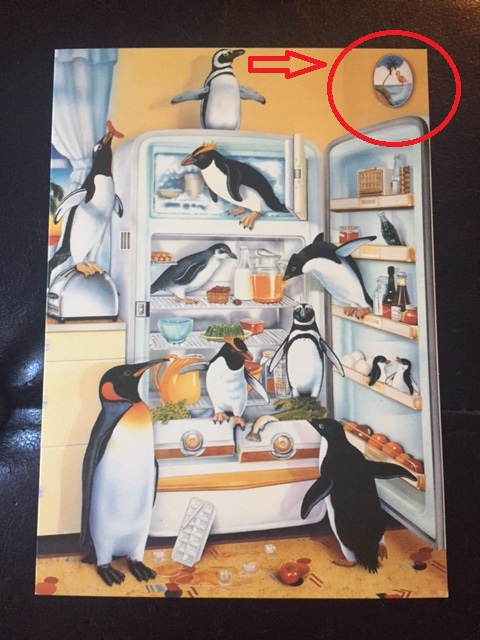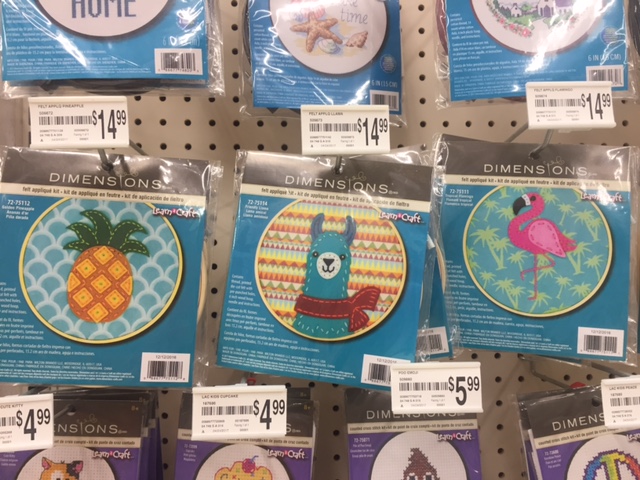 Have you discovered the Tropical Illuminati prior to reading this post? If you have, I'd love to hear about your sightings. If you discovered the Tropical Illuminati after reading this post, well, that's the Frequency Illusion at work again, and I love to hear about that too.
One thing I can say about all of this Flamingo and Pineapple fun, I now know how to spell Illuminati without looking it up each time.
Update July 31, 2017 ~ I submitted Tropical Illuminati to Urban Dictionary and it was ACCEPTED! That makes me so excited.
Update November 8, 2017 ~ My friend Julia, formerly of Vancouver Crafty Geeks has re-branded and you can now find her at Wayward Pineapple Creations. Her newest blog post is her about her interactions with the #TropicalIlluminati, check it out!: A Conspiracy of Pineapples